TECADE completes the assembly process of the San Ignacio bridge in Bilbao
This important steel bridge manufactured by TECADE, will connect the road and pedestrian network of the San Ignacio neighborhood with the island of Zorrotzaurre
Last week, TECADE completed the assembly work on the San Ignacio Bridge over the Deusto canal in Bilbao, culminating its participation in this great regeneration project in the urban area of ​​Zorrotzaurre.
It is a cable-stayed arch bridge ("Bow-String") with a high architectural value, which was completely manufactured by TECADE at its facilities in Seville. It has a total length of 75m and a weight of 470tn.
The bridge transfer maneuvers by river for its final location, were carried out at the beginning of the year and once executed, the team began the process of coupling and final welding of the structure. A delicate work given the degree of complexity of the weld and the difficulty in its execution, which required important auxiliary means such as large tonnage cranes, special scaffolding, access platforms, among other essential elements in the process.
For TECADE, the successful completion of its participation in this project with the manufacture and final assembly of the structure is of great importance due to the socio-economic impact that this unique project will have in Bilbao and its consolidation as a leading company in the construction of large steel bridges at national and international level.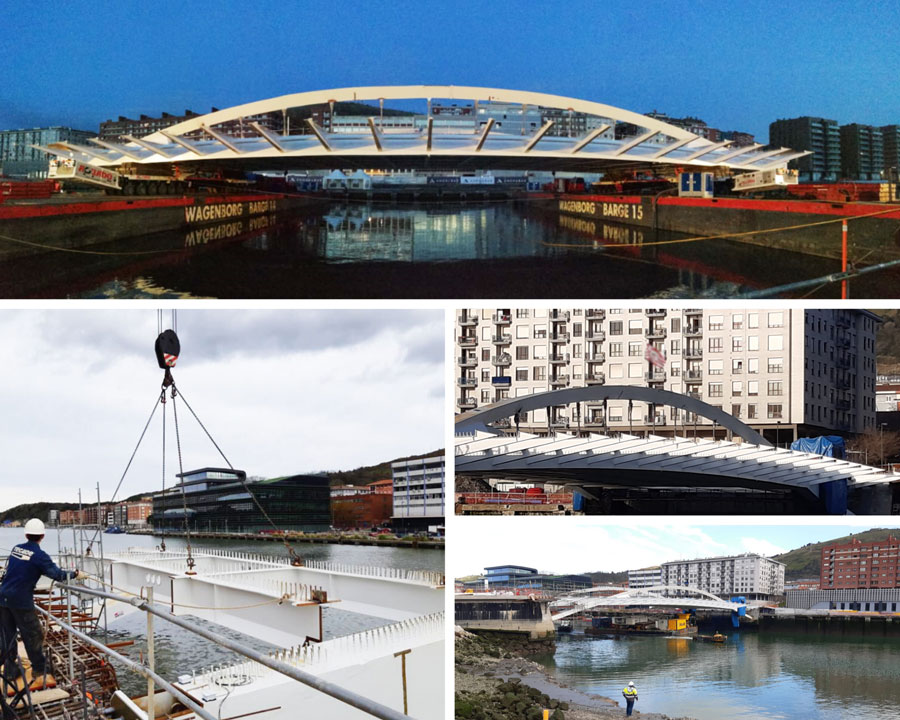 Bridge transfer process (Vídeo)